How to choose a hairstyle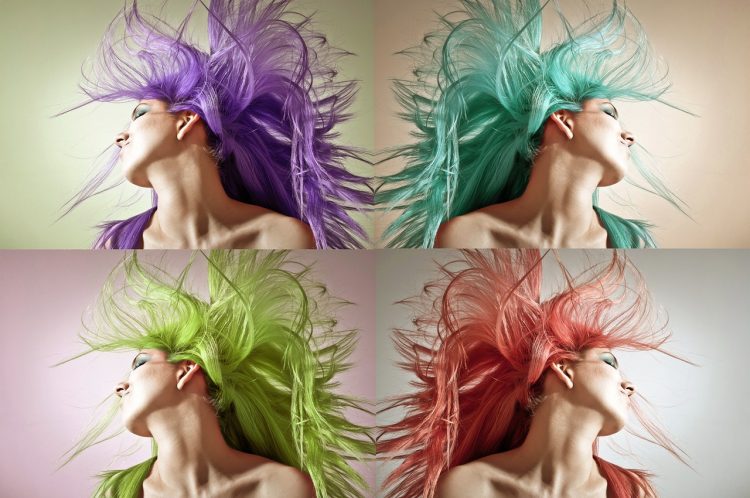 It may sound a little unfair, but the way you look defines the first impression about your person. That is why all of us wants to look attractive. Meanwhile, modern age requires the same. In fact, it provides us all we need to accomplish the goal.
Nowadays people spend a lot of time visiting different stylists, and hairdressers are among the most required today. Some of us let the professionals decide on what kind of haircut to choose, and this makes a lot of sense! Still, some of us want to choose a hairstyle individually. In doing so, we have to take into consideration some factors to make the best choice.
Hairstyles for different shapes of faces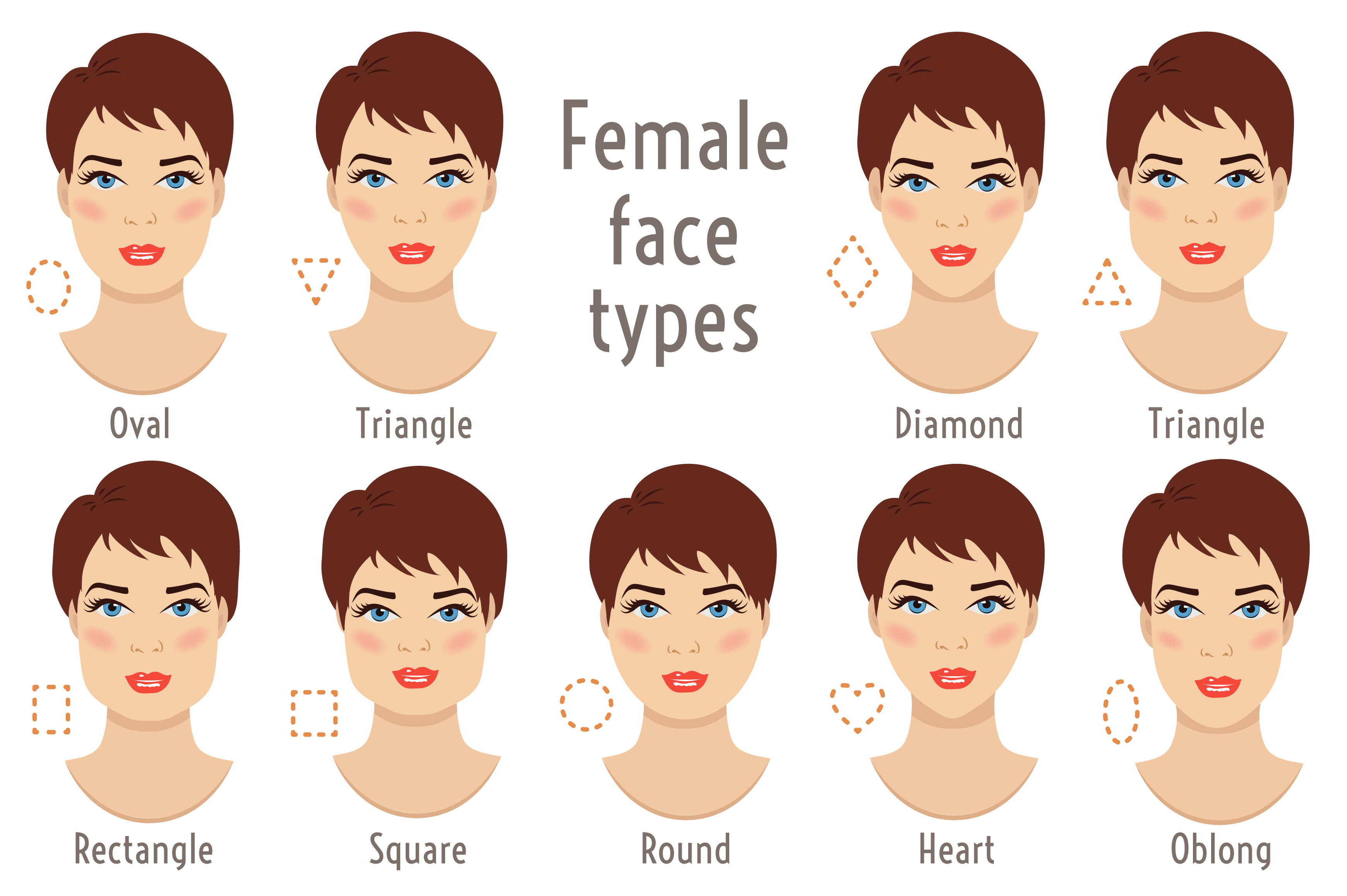 It is not a secret that the most suitable hairstyle depends on the form of your face. The shape can be 'round', 'square', 'oval', 'heart', 'triangle', 'diamond', and 'oblong'. To define it, look straight at your image in the mirror. Be honest with yourself. Find the features belonging to you, not the one you want to have. To make sure with your choice, put your hair away from the face. It will help to see the whole picture. So what do you see? To help you, we provide names of celebs you may know with different shapes of faces.
Hairstyles for round-shaped face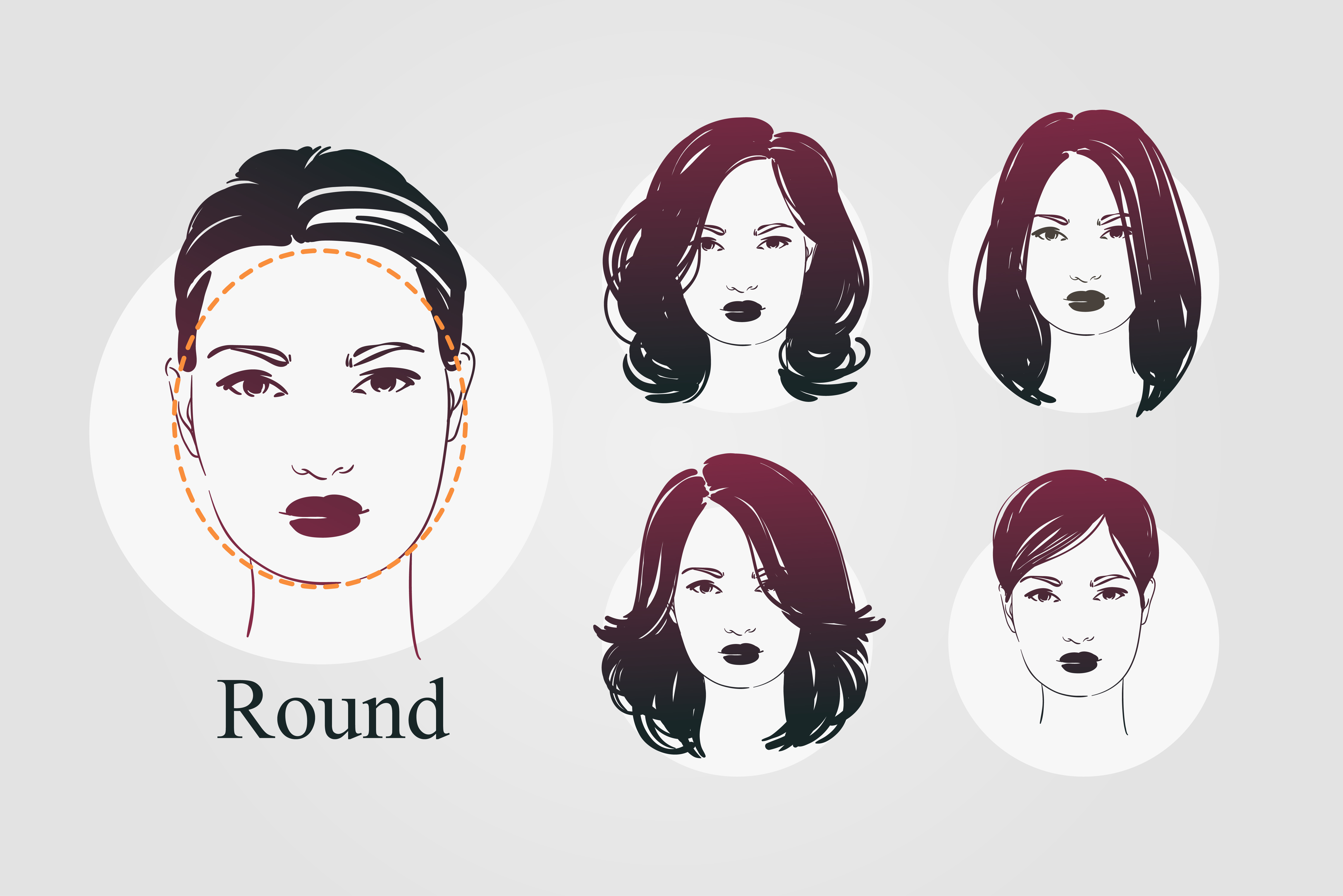 Round shape characterized by a round-shaped chin and curvilinear lines of the face. The cheekbones are usually a little bit wider that the forehead. The length of the round-shaped face is nearly equal to its width. Kelly Clarkson, Cara Delevingne, Mila Kunis, Kate Bosworth, Emma Stone, Justin Timberlake, Gerard Butler, and Kevin Spacey are among celebs with round-shaped faces.
Women: Our goals are to minimize the width and to add some height. Layered haircuts can carefully flatter the features we want to hide. Bobs of different kinds are good too. Still, try to avoid blunt cuts and one length hair. It means, if we are talking about bob haircuts, classic bob should be stricken off from the list.
Men: To make your face look oval, choose cuts that will add some height to your hair. Faux-hawks of different kinds will complete this goal. Remember, you have to avoid volume on the sides, traditional, side parted hairstyles.
Hairstyles for square-shaped face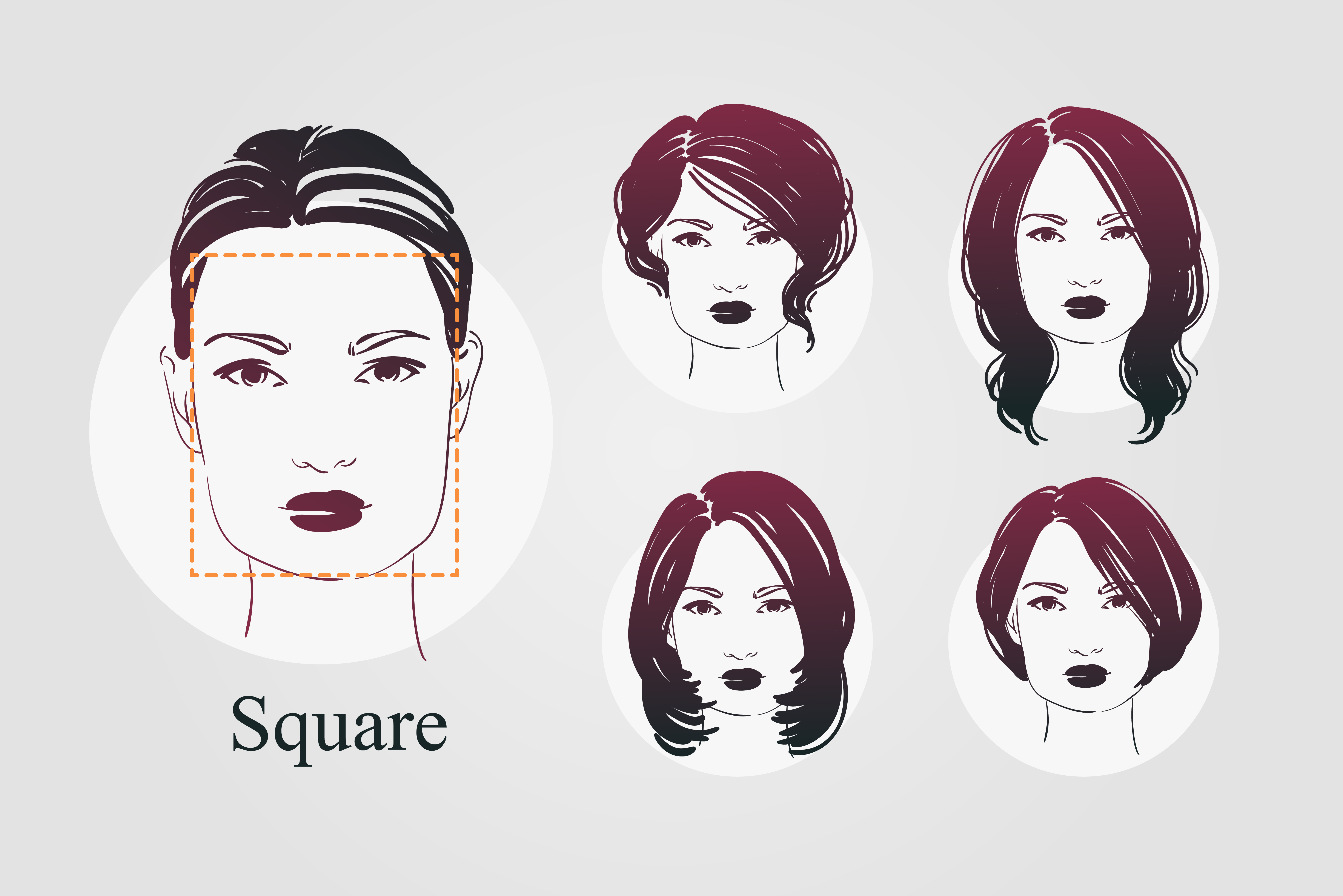 Wide cheekbones, angular jaw and broad forehead are the main characteristics of square-shaped faces. Rihanna, Lady Gaga, Demi Moore, Lucy Liu, Matt Damon, Enrique Iglesias are among celebs with square shaped faces.
Women: The best is to choose hairstyles with waves and graduated layers. They will detract attention from the angular features we want to hide. Asymmetrical cuts will look gorgeous as well. You can also try some cuts with longer hair in the front. As we do not need to accentuate a jaw line, try to avoid long straight hair. You have to avoid cuts that end at the jaw line as well.
Men: Men do not have to hide their 'square' features. On the contrary, the primary goal is to enhance and punch up the square shape. For example, new Faux Mohawk creates the messy look that helps to compliment the squareness of the features.
Hairstyles for oval-shaped face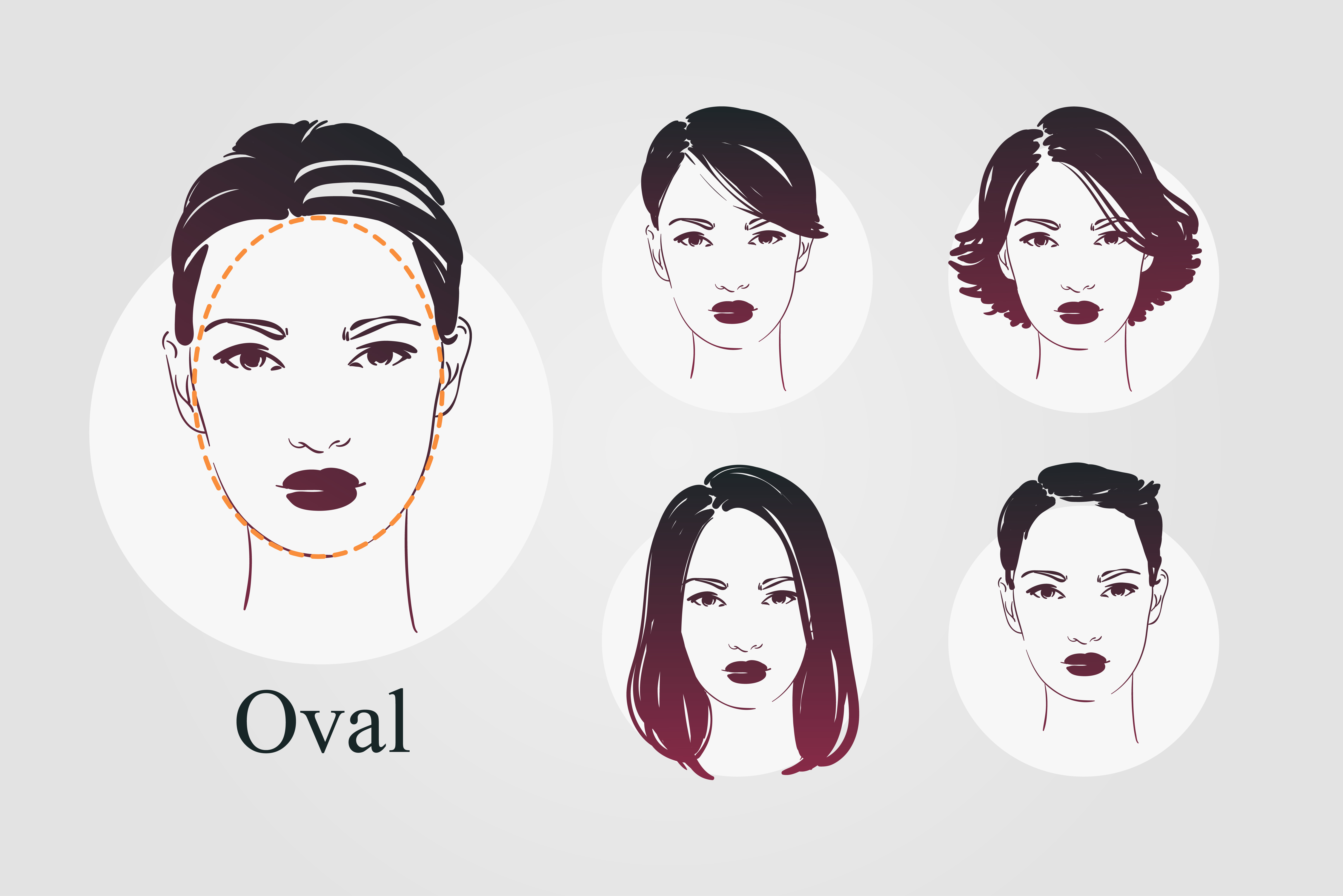 The oval-shaped face is easy to define. Its characteristics are nearly similar to round-shape but more elongated. According to hair stylists, people with oval-shaped faces have the longest list of hairstyles to try. Selma Hayek, Julianne Moore, Jessica Alba, Jennifer Connelly, Hugh Laurie, Barack Obama are in the list of people with oval-shaped faces.
Women:  Oval-shape of your face has already hit the jackpot. You can freely experiment with all sorts of haircuts. All you have to do is to highlight the feature you love most.
Men: Feel free to choose any hairstyle you wish, lucky you!
Hairstyles for heart-shaped face
A broad forehead, strong cheekbones, and a narrow chin usually mean your face has a shape of heart. Reese Witherspoon, Angelica Bassett, Zooey Deschanel, Ashley Olsen, Johnny Depp, Leonardo DiCaprio, Orlando Blum are among people with heart-shaped faces.
Women: Brow-skimming or side-swept bangs will derive the attention from the chin. You can also try some short haircut. The things you have to avoid are choppy layers that hit at the chin and a slicked back look with no volume.
Men: The main feature you have to smooth is a narrow chin. That is why you need to add some width around your chin or to balance it with adding some length at the top. Chin-length hairstyles help best! You can also try some short haircuts with short sides or semi-spiky soft layer on the top. Just remember that you should not slick your hair back.
Hairstyles for triangle-shaped face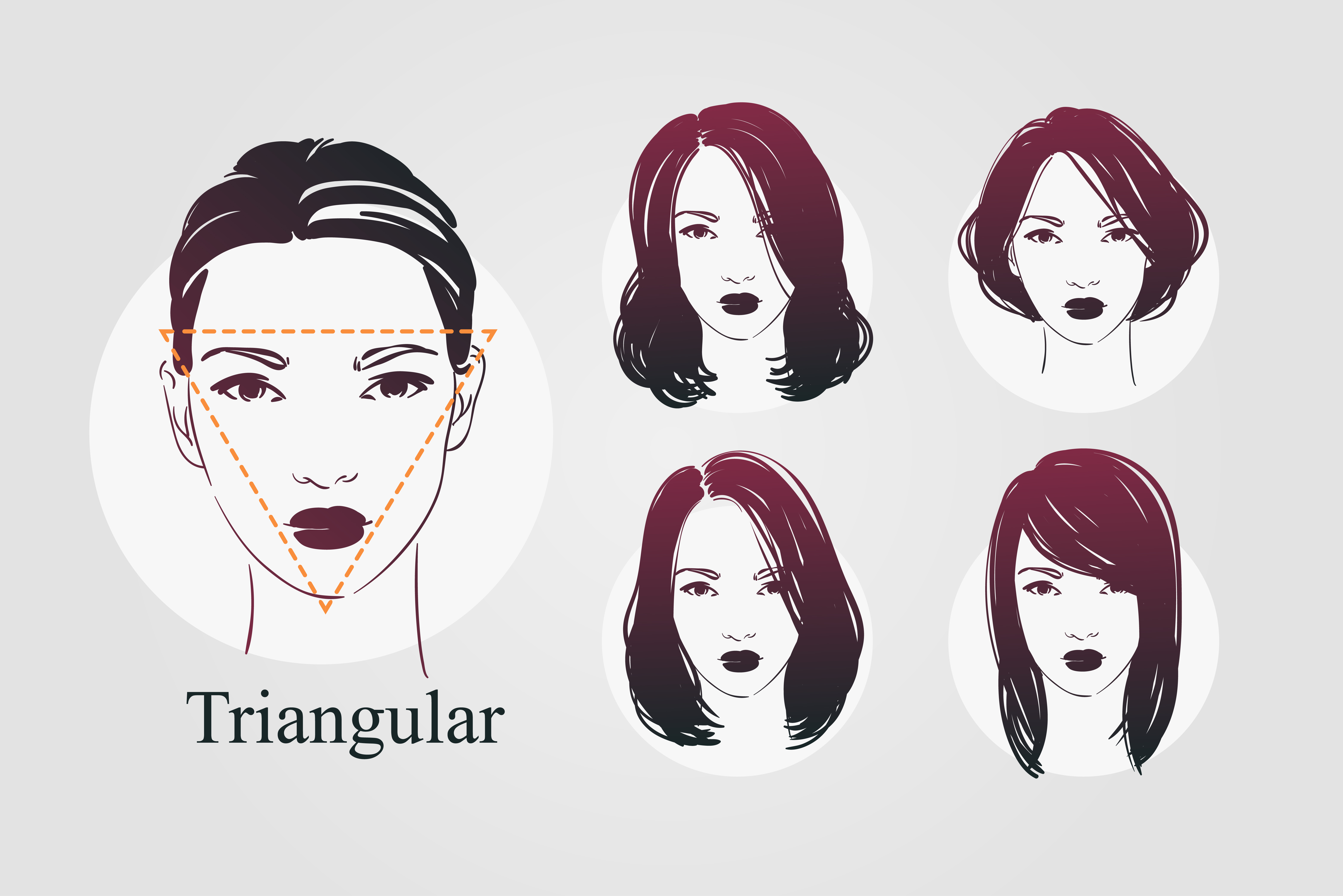 Full chin, angular jaw, and narrow forehead are the main characteristics of a triangle-shaped face. In other words, triangle shape is the opposite to the heart shape. Keira Knightley, Olivia Wilde, Kelly Osbourne, Jude Law, and Jake Gyllenhaal are among people with a triangle-shaped face.
Women:  Big side-swept bangs and short haircuts are the best for you. You have to add some volume to the top of your head and the sides, so choose a hairstyle that will accomplish both. If you want to wear a long haircut, make sure it will be lower than your collarbone. Do not pull your hair away from the face and avoid slicked to the back hairstyles.
Men: Side fringes or side-parted haircuts will add some volume and smooth the triangle characteristics. Just do not try to make your head look taller than it is. You need to add some volume to the sides, not to the top center of your head. You can also try a mid-length hair with bangs.
Hairstyles for diamond-shaped face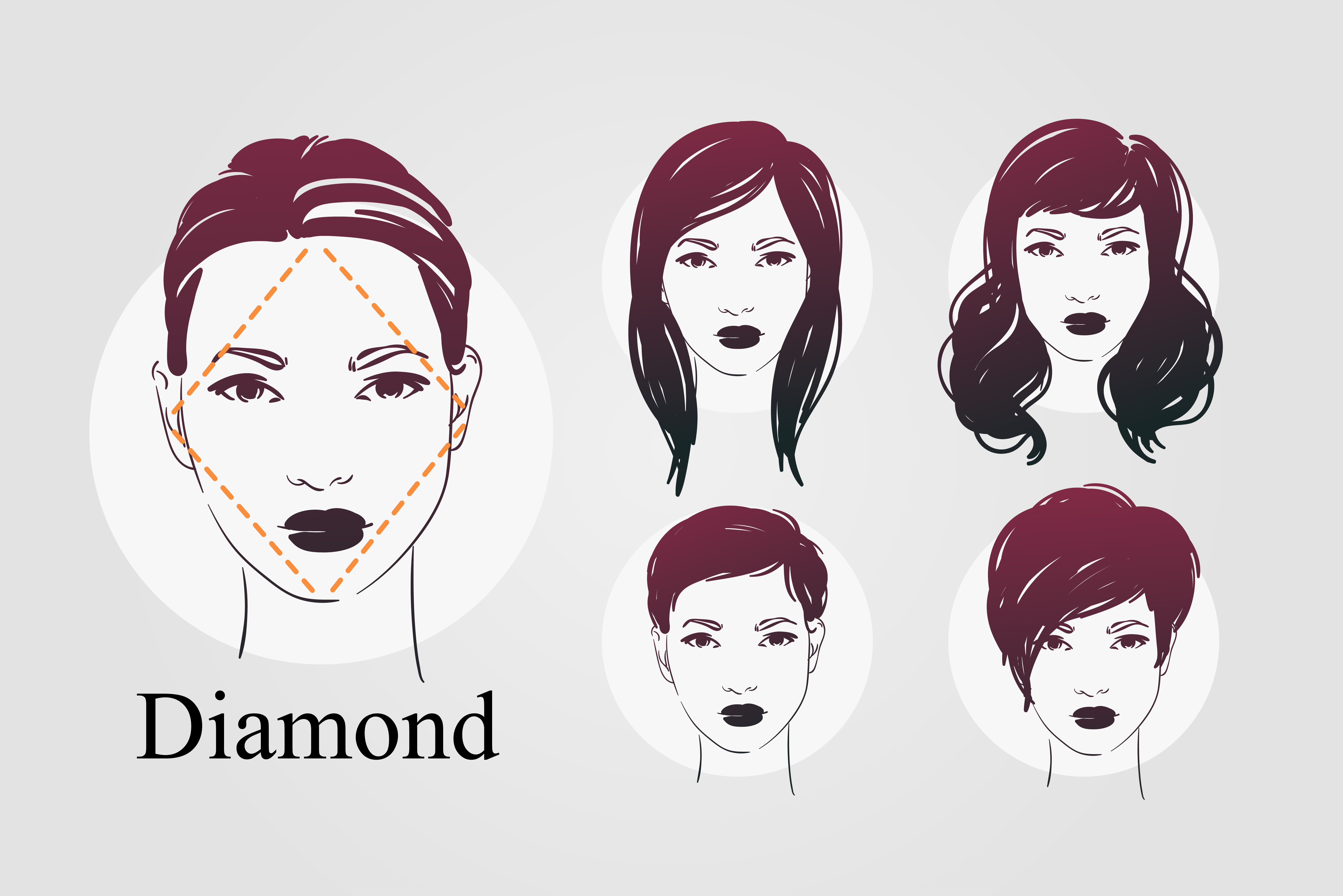 Narrow chin, narrow forehead, and broad cheekbones are the main characteristics of a diamond-shaped face. Scarlett Johansson, Tyra Banks, Halle Berry, Madonna, Ben Affleck, David Beckham, and Zac Efron are among people with diamond-shaped faces.
Women: The main aim is to wider a chin. The best ways to do it are choosing of full, straight bangs or chin-length haircuts. Try long hairstyles that you can tuck behind the ears. It will help to highlight the diamond shape that looks gorgeous.
Men: This form requires soft lines and layers that contribute to softening natural angles of the face. Side sweep or deep side parting is right for you.  Taking sides too short will add the width of the cheekbones and make your ears look bigger than they are.
Hairstyles for oblong-shaped face
If your forehead, cheekbones, and chin are narrow and of the same width, you have an oblong-shaped face. Liv Tyler, Sarah Jessica Parker, Ann Hathaway, Ryan Gosling, and Adam Levine are among people with an oblong-shaped face.
Women: The main aim is to add some width to the face. Choose a side swept bangs or chin-length bobs to create that feeling. Never wear a long haircut; it will make your face look longer. Try some short hairstyles; you will probably enjoy it!
Men: You can choose a side-part style, but you will have to keep sides a little bit longer. You can try a Buzz cut; just don't make hair longer on the top as it will make your face look longer as well. Wearing hair fringe up and leaving sides a little bit longer to minimize the risk of elongating is a good choice as well.
As you can see, there are some rules for all those who want to choose a haircut without the help of a professional. Nevertheless, you can try any hairstyle you like. You will not know if it suits you until you try it. Just keep these rules in your head to make your choice easier. Good luck!
More:
Let this collection of free ACIM resources and teachings from David Hoffmeister illuminate your mind and bring you a deeper clarity, understanding, and experience of the teachings of what is a course in miracles