Makeup trends. Why do girls wear glitter on their faces?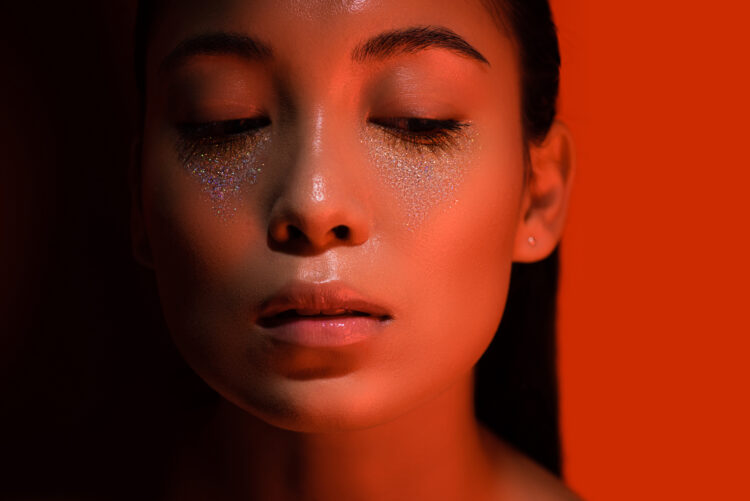 Glitter gel or self-adhesive glitter – have you heard of this? This trend is not only for schoolchildren. You don't need stereotypes, you can and should look bright and young at absolutely any age!
How to use it? Easy peasy! This is not an ordinary free-flowing glitter, which previously had to be glued on a special base so that the glitter would hold and not crumble. Glitter gel is a jar of viscous gel and glitter. Scoop it up, apply it to the skin without any special preparation and walk all day. Pat McGrath and her famous Versace Atelier makeup made glitter back in fashion. A calm styling will balance the expressive makeup. So, a classic suit, a shirt with an interesting cut or a laconic dress will turn shiny lips and cheekbones into a witty accent.
With the help of such cute sparkles, you can refresh your image, make the usual nude make-up brighter and more prominent. It is best to apply a little glitter on the cheeks, on the tip of the nose, in the blush area and under the eyes. With the help of such glitter, you can hide minor skin imperfections. A little sparkle on cheeks – and any woman starts to look several years younger. Recently, many online stores started to sell actively self-adhesive glitter to buy in bulk. Their prices are not high, and most often you can be sure of good quality and fast delivery. The choice of colors there is very large.
You can make your own glitter gel by mixing the necessary base and cosmetic glitter in bulk.  You can add absolutely any dry glitter to the mix and still look captivating! Do not forget that each outfit will have its own shade, so it is best to stock up on a lot of glitter in advance. Do not be afraid to experiment, because fashion is an area where you cannot be afraid of changes and beauty experiences.